One of the most popular fitness crazes to hit the waterfront in recent years it the SUP, or stand-up paddle. Matter of fact, the SUP is more than a craze, it has become a daily workout for many individuals who prefer the water to asphalt.
A Workout that's Fun
For many who use their stand up paddle for exercise, it's the most fun they've ever had working out. We hear every day here at Lovers Key Adventures from new paddle board users that they intend to get their own board when they go home. You'll see the increasingly popular SUP on lakes, streams and even small ponds as more people drift into fitness on this great waterboard.
Even the Wall Street Journal took note of the rising number of stand-up paddle surfers several years ago. The writer notes that the natural effort exerted to keep balanced and erect does an excellent job of toning and strengthening the back, buttocks, shoulders, arms, and legs. That makes the SUP a total body workout with minimal stress on ankles and knees.
In fact, being on the water keeps you cool while getting your heartbeat up and giving you both aerobic and strength exercise. While paddle boarding has been known in Hawaii and California since the 80s, it is now a national business generating more than $9 billion in sales.
Rentals and Tours
If you have never experienced a stand-up paddle board ride, you'll find plenty of opportunities to get the hang of it here at Lovers Key Adventures. And if you are already an old hand at the sport, you'll love our great selection of gear for rental  including lightweight 28 lbs soft top boards that are 11'6" long and 33" wide.
These boards are more than a great waterborne exercise machine. With no distracting motors or sails, you can glide around the sights here at Lovers Key State Park. Travel down the nearby estuary to check out the wildlife, or set out on the back bay for a longer adventure. Of course, many enjoy just paddling along the beach, enjoying the sun and salt spray while staying out of the water – if you have good balance!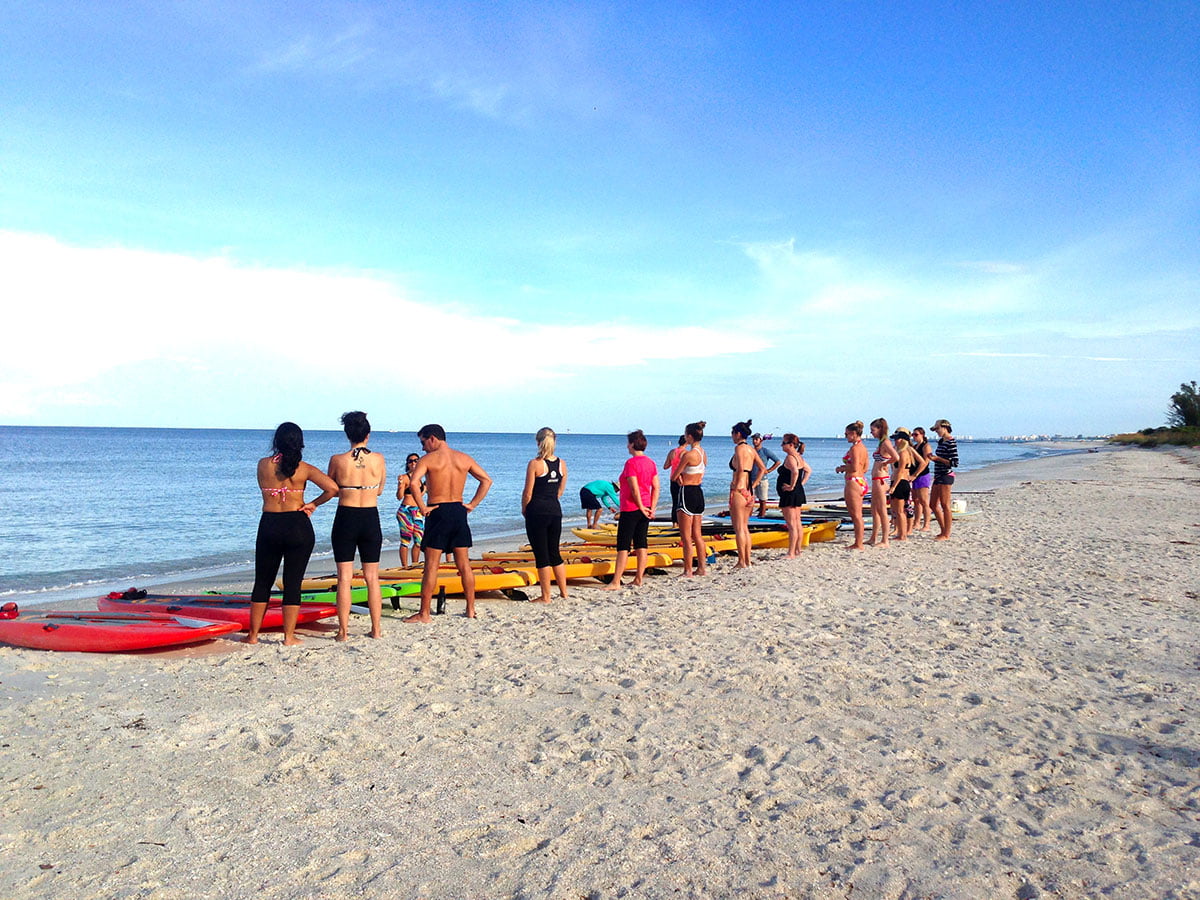 We also offer training classes (you'll be surprised how fast you pick up the knack for a SUP), and you can tag along with our numerous guided tours for even more fun.
If you want a great new way to celebrate your wedding, anniversary, or another special event, why not ask "What's SUP?" Contact us to set up group lessons and tours with your group and you'll give them an experience they'll talk about for ages. Join the stand-up paddle crowd and you'll never see the water the same way again.
Lovers Key Adventures
8700 Estero Blvd,
Fort Myers Beach, FL 33931
239-765-7788