Stand-Up Paddle Board Rentals Fort Myers Beach
Stand-Up paddle boarding has become the latest craze for paddle enthusiast in Florida and Lovers Key is the best place to paddle.
Our light weight (only 28lbs) soft top boards are 11'6" long and 33" wide and they provide the most comfort and the simplest way to get started for SUPers of any skill level. The Lovers Key Adventures staff offers a quick lesson on how to launch, paddle, stand-up, and stay up on these new boards to ensure your safety and great times on the water. Stand-up paddle boards are great for seeing wild life and maneuvering through the water with effortless strokes keeping your core tight and your head high to catch that manatee floating below you.
Lovers Key Adventures has three separate areas for SUPers to launch and explore. The estuary is a great place to see wildlife and experience the paddle with easy currents and little to no wind. The back bay is a waterway that will lead you New Pass, the beach, and the Gulf of Mexico, just make sure the tides are right. Ask anyone on staff at Lovers Key Adventures and they can check the tides for you. The third place to launch is directly from the beach into the ocean. Depending on the calmness of the water, the paddle boards can be used for a peaceful paddle to the North or South end of the park; or if the seas are rough a, to surf the waves. Either way, Lovers Key Adventures will make sure you have a great time paddle boarding at Lovers Key State park.
Paddle board tours are available 7 days a week for groups 3 or larger. You decide which part of the park you want to explore and our guides will lead the way to a great adventure. Each guided tour starts with a 30 minute lesson for those beginners to the board.
For The Yogis That Love to Paddle Board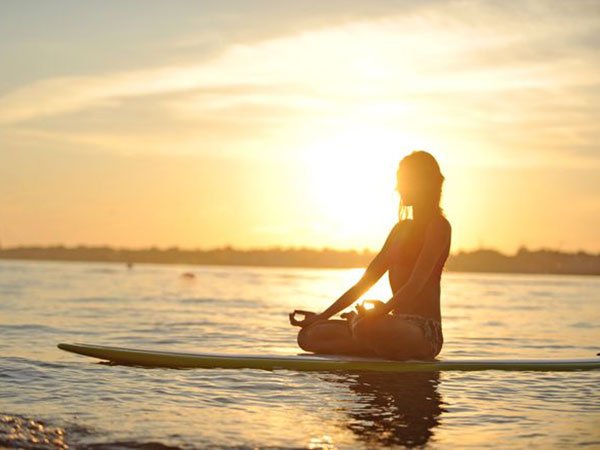 Lovers Key Adventures offers Paddle Board Yoga classes as well as Yoga on the beach classes. This class will connect you to nature igniting your muscles and relaxing your mind through meditations. It is a great way to challenge your body and mind, posing on a paddle board as it floats gently above the serene water.
You will surely find your center as the birds fly overhead and the mangroves protect you from the wind and currents. Group and private classes are available $40 if you need a board and $20 if you bring your own board. Lovers Key Adventures has plenty of boards on site so we will always have one available for you. Call 239-765-7788 for reservations, email us at [email protected] or click the button below to reserve online.
"It's a great core work out while having fun and seeing beautiful wild life." Says Gabriella, one of Lovers Key Adventure's tour guides and Environmental Studies major at FGCU.